Stryker acquired MAKO Surgical Corporation, a pioneer in the advancement of robotic- arm assisted surgery in orthopaedics, in December of 2013. Stryker's Mako robotic-arm assisted reconstructive surgery is transforming orthopaedics, combining Stryker's market-leading implants with Mako's proprietary robotic-arm technology.
Over 50,000 Mako hip and knee procedures have been performed since 2006.
Key benefits include:
CT derived, patient-specific 3-D modeling enables accurate planning of implant size, orientation and alignment preoperatively.
Real-time intra-operative adjustments allow for more correct knee kinematics and soft-tissue balance prior to resection.
Has been shown to provide excellent accuracy and precision with regard to planned cup position, leg length, and offset.
Allows single stage reaming for the hip.
The Mako platform is supported by significant primary clinical research, including more than 50 peer reviewed clinical publications, over 300 scientific abstracts, and numerous ongoing clinical studies, including a level 1 RCT, resulting in these key findings:
Mako UKA resulted in 1% Revision Rate and 92% Patient Satisfaction at two Years.
Mako robotic-arm assisted UKA resulted in lower pain and more accurate implant placement than manual UKA in a randomized control trial.
Mako robotic-arm assisted THA resulted in higher Harris Hip Scores and higher UCLA Activity Scores compared to manual THA at minimum one-year follow-up.
Mako SmartRobotics™ for Total Knee replacement
Mako SmartRobotics™ for Partial Knee replacement
Mako SmartRobotics™ for Total Hip replacement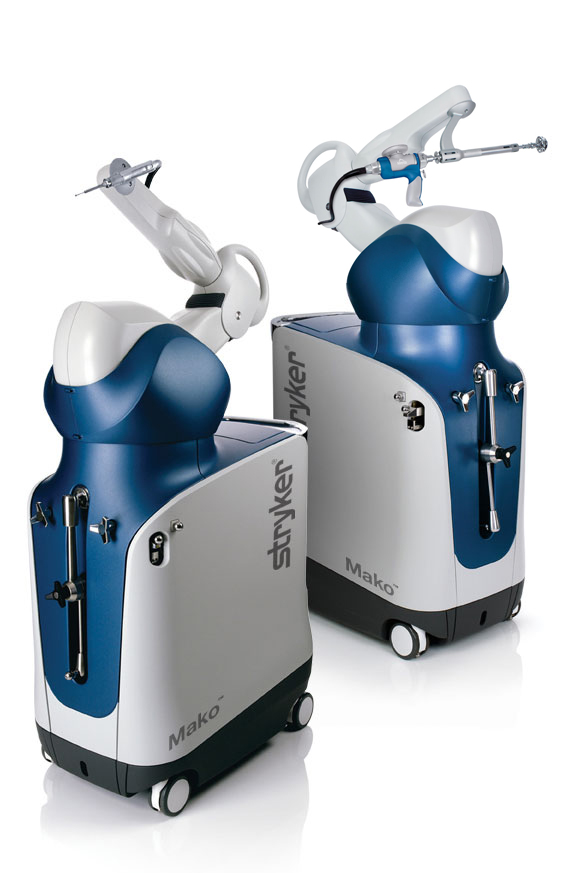 Our Location
2800 Tamarack Avenue
Suite 106

South Windsor
,
CT
06074
Office Number: (860) 644-5900
New Patients: (860) 383-7571
Fax: (860) 644-5978
Follow Us